Martha Gilman Andrews

July 22, 1946

November 20, 2018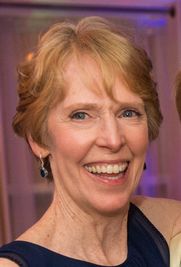 Lyman – Marti Andrews passed away at Maine Medical Center as the result of a stroke on November 20, 2018, surrounded by her family.
Marti grew up on the Thrall Family Farm in Windsor, Connecticut, where she and her older brother Charles Gilman tried their best to get each other into trouble. After graduating from Windsor High School, she attended the University of Connecticut where she earned her bachelor's degree in 1968 and her master's in audiology the following year. During undergraduate school, she met her husband of 49 years, Bruce Andrews on a blind date (it was love at first sight!). They married in 1969. She was captain of the UConn cheerleading team, which was a perfect match for her fun and enthusiastic personality.
After a stint living and working in New York City and New Jersey, Marti and Bruce moved to Maine, where they fell in love with the ocean, lakes, and the outdoors. Marti spent her free time swimming in Bunganut Pond, boating, waterskiing, snow shoeing, ice skating, cooking delicious meals, quilting, dancing around the kitchen to oldies music, and doting on her husband and their daughter, Kathryn. She loved to travel and always planned epic adventures around the world for her family. Marti adored her work as an audiologist so much that she refused to ever retire.
Marti was predeceased by her parents, Edward and Hazel Gilman, of Windsor, Connecticut. She is survived by her husband, Bruce Andrews; daughter, Kathryn Andrews; son-in-law, Nicholas Weir; brother, Charles Gilman; sister-in-law, Jeannine Gilman; niece, Cherie Buszczak and family; nephew, Glen Gilman and family; aunt, Josephine Dexter; and cousins Steve and Bruce Dexter and Janet Moberg.
Marti's life was celebrated privately at her family's home. Memorial contributions in Marti's honor are welcome to the Bunganut Pond Association (P.O. Box 237 Alfred ME 04002).
Online condolences may be expressed below.