Debra Whalen
May 30, 1957
December 16, 2022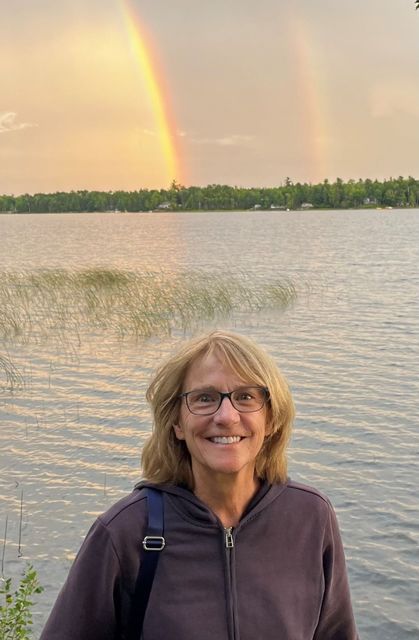 Debra Whalen, 65, of Westbrook, passed away on December 16, 2022.
Debra believed in angels. She had a gift for seeing them everywhere, in the faces of strangers, in the better nature of her friends and loved ones, in the countless small actions she performed daily with others in mind. For sixty-five years, they watched over her as she lived on this earth with grace and kindness. Before the first gray light of December 16 and before the first gentle snowflakes fell throughout the day, a flight of them sang her to her rest.
Debra was not religious, though she believed devoutly in the goodness of people. Against all arguments, she maintained a steadfast optimism about the human heart. Perhaps it was this magnanimous spirit that finally overtaxed her own delicate heart. And in her passing she would no doubt be more concerned for the heartache that others who knew her must now endure.
Born in Manchester, NH, on May 30, 1957, to Mary and George Whalen, she traveled throughout her early life with her parents and brother, Patrick, to various military bases around the world, before settling in Farmingdale to complete her last two years of high school. There she found her closest friends who would remain an integral part of her life, including her best traveling pal and fellow adventurer, Linda.
After graduating from Hall-Dale High in 1974, Debra attended the University of Maine at Orono, earning her bachelor's degree in Math and Philosophy, and later earning an MS in Statistics at USM. During those years she met another group of women who would be lifelong friends who met on a regular basis to support and care for each other through life's challenges and joys.
In every year she lived, Debra spent time at her beloved family camp in Robbinston, not far from Eastport, where both her parents (and she herself, at times) were raised and educated. Many a summer day was spent swimming and relaxing on the nearby shore of Boyden Lake. In later years she would find more time for visits there, despite the four-plus-hour drive and her partner's complaints. But it was always worth the trip, especially after her dear cousin Margie retired and could spend even more time in her neighboring camp. Oh, the stories they shared, and the laughs.
After working over thirty years in IT for the state of Maine and at Anthem and UNUM, Debra retired in 2014 along with her partner Rob, and together they traveled extensively throughout the US, Mexico, the Caribbean, and Europe. Alas, it was on their last journey together departing from Zurich, Switzerland, that Debra's sweet heart failed but was revived long enough to return home to see many of the people she cared for.
Debra kept busy in retirement, always looking for some way to be of use to others. She volunteered for years at Portland Adult Education, where she met one of her "sisters," Sameerah, who will forever remain close. She went on to assist at Catholic Charities for years, as well as being a foster parent to many a needy animal (mainly cats and bunnies). Just before her untimely passing, she was preparing to volunteer to help elders with their taxes, as she was brilliant when it came to numbers.
Another way Debra found to spread light and joy was through the love of her "adopted" family, Marc and Francine and their three beautiful daughters, Briella, Nicky, and Anaella. Among other things, Debra arranged swimming lessons for everyone for years, insisting they would need them living in Maine, particularly when they would all visit at camp each summer. Her imagination and her heart were boundless when it came to finding ways to care for and delight the girls.
There is more to be said about this wonderful woman, and those who knew her will find words to share more of the stories and the many ways we loved her. A celebration of Debra's life will occur sometime around her birthday on May 30. Details will be posted on the website below as the time nears. Until then, please think of her and share that light with everyone you might encounter, for any one of them may be an angel.
Also, much appreciation to the kind folks at New England Rehab and CenterWell Home Health as well as to the dedicated staff at USZ in Zurich.
If you feel like donating, please consider Friends of Portland Adult Ed or the Animal Refuge League of Greater Portland.
 A Memorial Celebration of Debra Whalen will take place on Saturday, June 10, from 2 - 4 pm at Gilsland Farm Audubon Center in Falmouth, Maine.